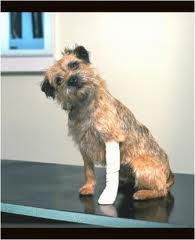 We do understand that emergencies can arise unexpectedly. As a client of ours, if you feel that your pet is in need of medical attention while we are open, we will make arrangements to have your pet seen as soon as possible. If no appointment times are available then this may entail having Dr. O'Grady or one of our technicians doing an initial evaluation and admitting your pet for further assessment in-hospital. Our goal is to have your pet examined and assessed as soon as possible, without necessarily waiting for a consultation time to become available. Your pet's well being is of the utmost importance to us.
In the best interest of our patients we refer after hours emergencies to one of two Emergency hospitals that are fully staffed when regular veterinary clinics are closed. These after-hours and specialty hospitals are designed to provide 24 hour emergency veterinary care. Please remember to take all your pet's medications and/or medical records to the emergency hospital when you go. If you think your pet has gotten into something take the product with you so that the vet will know what poison your pet may have been exposed to.

If possible, please call ahead so we can prepare for your arrival.
With a staff focused on the practice of Emergency and Intensive Care medicine, we can provide emergency service around the clock to you and your pet.
613 731 6851
Alta Vista Animal Hospital
2616 Bank Street (Bank & Albion)
Ottawa, Ontario K1T 1M9
Directions to Alta Vista Animal Hospital

900 Boyd Avenue
Ottawa, ON
K2A 2E3
Tel: (613) 725-1182
Emergency: (613) 729-6139
Fax: (613) 725-5659
Directions to Ottawa Veterinary Hospital