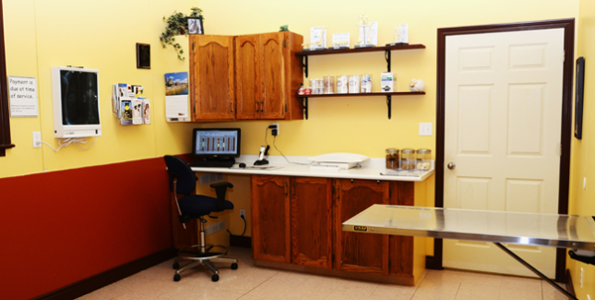 In 2009, when Gaelin decided to open her own practice, much thought was given to what and where to build. After a lot of consideration, the O'Grady's decided to build on their home farm since it was close enough to local towns and only 40 to 50 minutes from Scotia Bank Place in Ottawa. It would also mean that more time could be spent with their two daughters.
Just as the O'Gradys were starting to think about building design, the local Public School was advertised for sale. Located just a few miles away the gym section of the school had high ceilings, large windows and was large enough to convert into a veterinary clinic.
Intrigued by the idea of "recycle, reduce, and reuse" the fleeting thought became a concrete idea and the O'Gradys made an offer on the gym and two large portables.
During the summer of 2009, the O'Grady girls and most of the neighborhood watched as CDS Building Movers brought the buildings home and the transformation from school to veterinary hospital began. Due to the many talents of Larry O'Grady, Dr. Richard Smith and many members of our community Campbell Road Veterinary Services opened in spring 2010. Keeping with our philosophy of the 3 R's we used sinks, counters, cupboards and cabinets that were being removed from houses under renovation. Our theory was "reduce, reuse and recycle" as much of the clinic fittings and furniture as we could. That way so we could use the money we saved to purchase "state of the art" new equipment for the clinic. Our plan worked well!
We ended up feeling great about helping the environment and even better about being able to purchase extra equipment for the clinic. We installed quiet, comfortable cages, and constructed separate cat and dog wards to reduce patient stress. We also built an Intensive Care Unit for the pets in need of extra care and for pets recovering from surgery or medical procedures.
We purchased a state of the art surgical light, a hydraulic surgery table with heated water blanket, patient monitoring equipment, computerized IV fluids/medication pumps, computerized Blood Pressure machines, and even a tonometer that reads interocular pressures (pressures inside the eye). We purchased a liquid nitrogen cryo-surgery unit to allow us to perform minor surgery without general anesthesia, making removing small masses an office procedure rather than a surgical procedure. A new autoclave to sterilize our surgical equipment was installed in the treatment room. A full dental suite was purchased, allowing us to offer a full range of dentistry services. State of the art in–house blood machines, microscope, and centrifuges completed our in-house laboratory. We have to ability to run urine, fecal and blood work in a matter of minutes. We installed a walk-up stainless steel tub in the grooming room to allow pets to walk up into the tub reducing stress on both the handlers and the pets. We added a large cage drier to dry pets with warm air, reducing their stress and to warm hypothermic pets. We installed an excellent x-ray machine, and purchased a portable x-ray unit as well. An automatic film processor allows us to develop x-rays in under 2 minutes. X-ray viewers in the exam rooms allow us to review the x-rays with owners and help them understand what is wrong with their pet. We made the clinic fully computerized with the best veterinary software that money can buy. This allows us to send medical records, x-rays and lab results anywhere in the world and to ensure that our patients' medical information is always up to date and available.