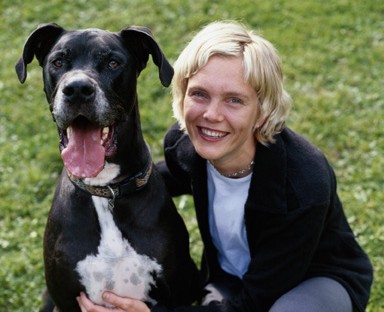 Giant breeds such as Great Danes, Irish Wolfhounds, and Giant Schnauzers have unique needs. As puppies they grow phenomenally quickly and this can create stress on bones, ligaments and muscles. Special attention to their diet as a growing puppy is needed.
Very few commercial puppy foods offer the ideal mix of calcium, energy, and protein levels that these breeds need. We can help you with feeding recommendations that will encourage your dog's maximum growth potential without causing developmental problems.
Giant breeds age faster than smaller breeds and are considered seniors at age 5, hence owners need to be diligent as subtle changes in their pet. It is strongly advised that comprehensive examinations be done every 6 months and regular wellness blood/urine testing be performed.
Many such dogs benefit greatly from early start joint protection to slow down the progression of joint disease. Talk to us about how we can help your giant live a longer, happier life.
For added convenience, we also stock veterinary-approved diets for giant breeds to help prevent and reduce the incidence of joint disease in giant breed dogs.
We also have an on-line store where you can order the recommended products for your dog and chose to pick them up at our clinic ir have them delivered to your home.
Please don't hesitate to contact us if you have any concerns regarding your giant dog.